We take pride in making our pieces not only look good, but functional as well.
Let's face it, we're not all shaped the same. So let us hand tailor a seat to fit your needs. Who wants to ride a motorcycle that they're uncomfortable on, or if you're happy with your bike and you just want to upgrade your upholstery for a custom look, we can help.
We have a long list of services we offer, and we're always pushing the limits of what we can do. We do everything from mild to wild. We love to work with our customers to make exactly what they want and need.
Decorative

Stitching & Custom Gel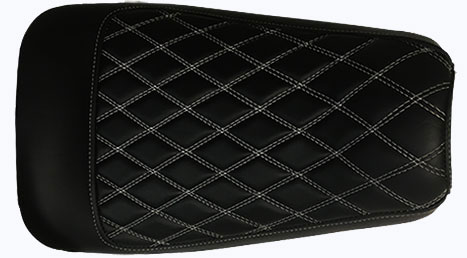 Decorative stitching is a great way to dress up a motorcycle seat cover. You don't have to go crazy with fancy embroidery and gaudy colors. Sometimes less is more.
Here's a saddle we customized for a 2004 Suzuki VS1400 Intruder. The owner selected a stylish double diamond stitch to embellish the seat. Before fabricating the vinyl cover we rebuilt the padding and installed a custom gel pad.
The gel pad is built into the seat so it doesn't "print". You'd never know the seat was gelled unless you sat on it.
When Wolverines Attack
We can't prove that this 1979 Harley-Davidson FXE seat was shredded by a vicious wolverine, but something definitely ripped it to pieces, and the teeth marks match a forty pound wolverine. They also match a goofy Golden Retriever puppy, but "vicious wolverine" sounds better, so we're going with that.
The owner wanted a new cover and a custom gel pad. Before doing any of that, we had to fix the wolverine damage.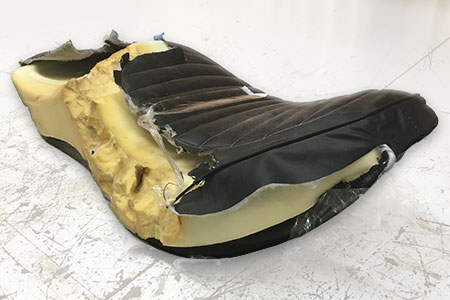 Damaged Harley-Davidson FXE Seat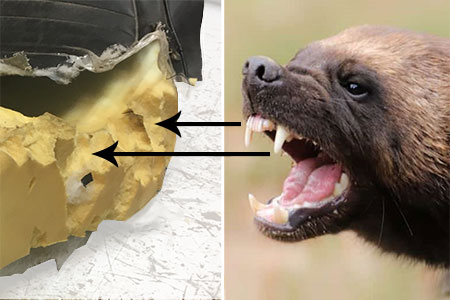 Wolverine Fangs Match Foam Damage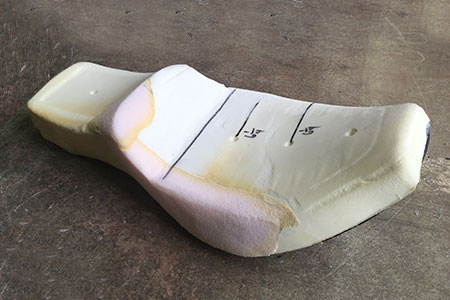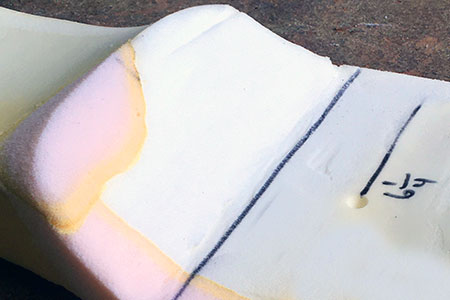 Repaired Foam
Proper foam repair not only requires the right tools and materials, you need to know what you're doing. For one thing, you have to match the characteristics of the original seat foam with the replacement foam. Then you have to trim and replace the damaged sections without compromising comfort or support. It's tricky to cut, shape and seamlessly glue all the pieces together so they stay in place. As you can see in the above pic, this foam repair was flawless.
Due to the large number of requests we receive
Please Read

This Section

Before Requesting a Quote
1. Inquiry: When requesting a quote please include a description of your project & attach photos of your motorcycle seat. The photos should show the entire seat from a couple of angles. Include as much info as possible in your initial quote request. That way we'll get back to you faster with a more accurate estimate. Here's an example of a good quote request: "I have a 2007 Whiz-Bang 900. I want to lower the driver's section by one inch and install a gel pad there. I want black carbon fiber on top and smooth black vinyl on the sides with a red welt (piping). I'm attaching a sketch of what I want."
Tina is your contact person. This is Tina's email.
2. Foam: If you want the seat foam altered, be specific. For example, if you want the seat raised, tell us how many inches you want it raised. Be precise. If you want your seat lowered, make sure it can actually be done. You can determine this by inspecting your seat pan. You should be able to judge the depth of your seat foam this way. If there's only one inch of seat foam we can't lower your seat by two inches.
This image (below) shows estimated foam depth in inches of ¾, ¾, 1, ½.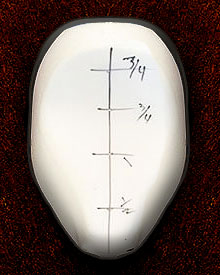 It's just an example; you don't need to remove the seat cover to estimate foam depth. Just flip over the seat pan, you should be able to guess.
3. Material: The vast majority of our motorcycle seats are covered in marine grade vinyl. This vinyl is available in a range of colors & textures, it's easy to care for, and it can handle the weather. If you want leather instead of vinyl, keep in mind it will cost more. If you want a seat covered in something other than black, please include a color swatch. One of our customers came up with a great idea; go to a paint store or Home Depot, find the color you want on their paint chart, then include a swatch of that color when you ship the seat.
Keep in mind: Leather will roughly double the cost of any seat cover. For example, if a vinyl seat costs $350, a leather seat will cost $650 to $700. Leather requires more cleaning and conditioning than vinyl. Black leather is readily available. Colored leather costs more & requires a longer lead time.
4. Embroidery: If you want something like a red Honda Wing stitched on your seat cover we would out-source that. It would increase the cost of your project, especially if the design is intricate with lots of colors.
5. Shipping: If you're from out of town, ship your seat to:
Bullseye Customs
25360 W Main Street
Ingleside, Illinois 60041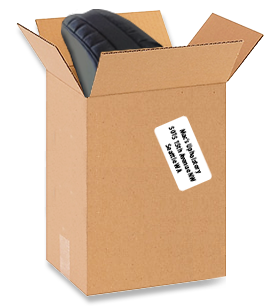 Are You On A Budget?
Do you need a new seat cover for your old bike, but can't go the custom-made route? We can help. A number of companies build aftermarket seat covers (and foam inserts) that may fit your budget. Let us install it for you. We have all the right tools and experience to insure that your seat looks the best it can. If you buy a seat cover online then install it incorrectly you'll kick yourself. It's worth spending a few extra dollars to get it done right the first time.
Have a question?
Feel free to call us at 224-475-3633, or shoot us a message by filling out the form below.
We can also help with shipping & delivery!